JOAT Festival international de Street Dance,
returns in 2023 with a new electric and festive program, co-produced by Danse Danse
After the success of the last edition, the festival is expanding! Get ready for a 2023 program full of surprises and discoveries.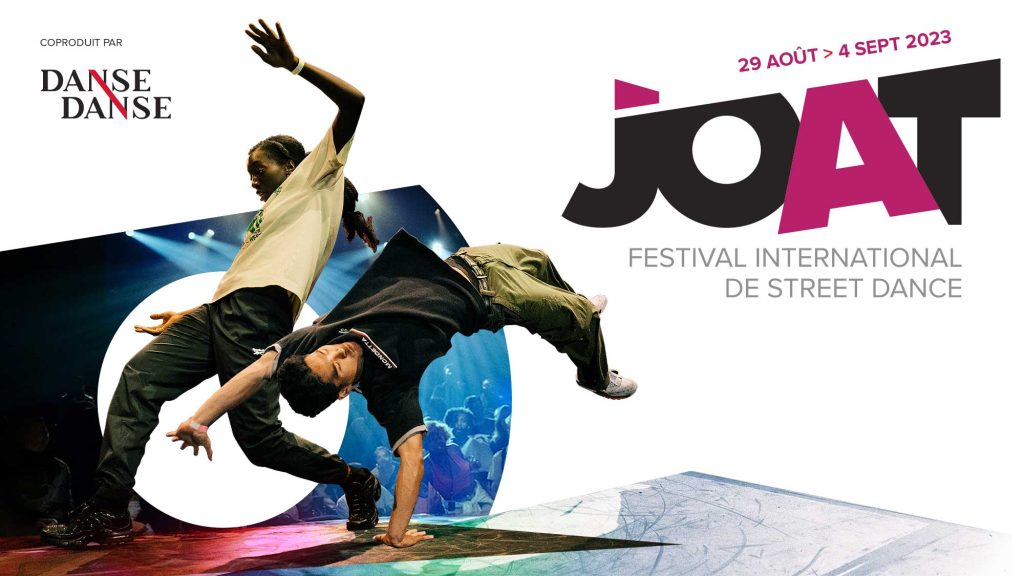 Festival activities were unveiled on May 17, 2023, by Festival co-directors Handy Yacinthe and Elie-Anne Ross in the lobby of the 2-22 Building on Sainte-Catherine Street.
FESTIVAL FREE ACTIVITIES
At Quartier des spectacles
Place des Arts, 2-22 Building, Club Soda
NEW Montreal Loves Hip Hop | Exhibition of objects and archival material on the history of hip hop in Montréal
NEW Educational lecture | On the cultural context of Black dance forms
C'est quoi les DAW's | battle of Hip Hop music composers
SPOT Session | Free practice space for street dance artists
JOAT Prelims | pre-selection battle for JOAT Battle at Club Soda
Glass House | Dance performances in the Windows of Building 2-22
NEW Montréal Loves Dilla | DJ Ambiance in tribute to J Dilla
Initiation activities | Hip hop, popping, krump, hustle, rap, beatmaking etc.
NEW Loop Session | research and creation session in beatmaking
NEW MKA Session | Krump Battles-Performances
Concert | Hip Hop music concert
JOAT Kidz Battle | Dance battle of all styles for children/pre-teens
NEW JOAT Vocal cyper / Initiation | Open level workshop on the basics of freestyle rap and improvised singing technique
JOAT Parties | Dance parties to celebrate in the street dance way
Also | Art fair, barber shop, DJs, food/refreshments… and more surprises to come!