ABOUT
JOAT (Jack Of All Trades) celebrates, supports and shares street dance culture by organizing events that bring together a community of artists from here and abroad, and that invite audiences from all walks of life to discover the multiple artistic practices that have emerged from these African–American vernacular dances. Its flagship annual event is the JOAT International Street Dance Festival, coproduced by Danse Danse: a week of festivities, activities and performances at Place des Arts, in the heart of Montréal's Quartier des spectacles entertainment district.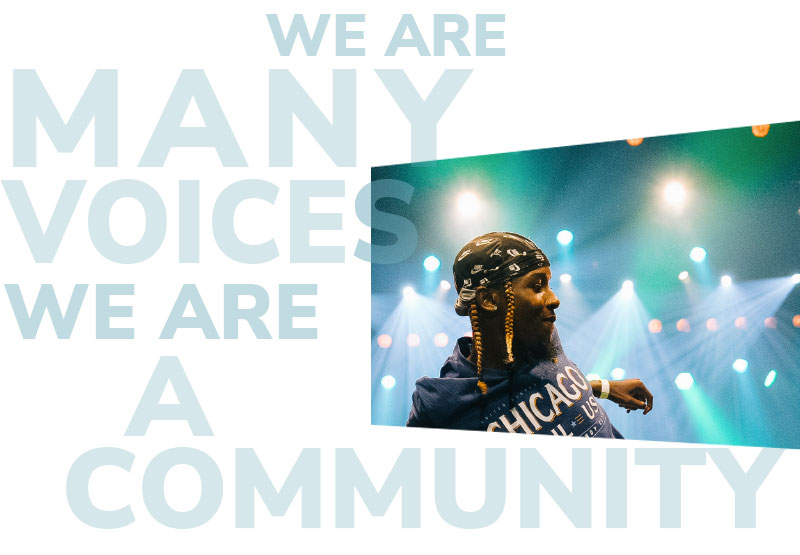 By celebrating dance, visual arts, music production and DJing, JOAT events invite audiences to enjoy an authentic and complete street dance experience while encouraging artists to freely express their plural and multidisciplinary artistic identity. The JOAT Festival quickly gained worldwide recognition, and several JOAT activities, including the iconic JOAT Battles, are now organized in the United States, the United Kingdom, Japan, India, Singapore and Taiwan.
The JOAT International Street Dance Festival offers a week of performances and activities open to artists and audiences of all ages, making it the largest event of its kind in Canada. The 2022 festival attracted nearly 15,000 people to its varied program of JOAT Battles, JOAT KidzBattles, the JOAT Art exhibition, introductory workshops, master classes, and other indoor and outdoor activities. By showcasing street dance ecosystem in all its diversity, JOAT aims to be a representation of our reality, a reflection of our society and our intertwined communities.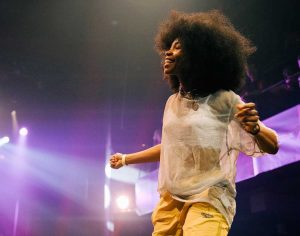 VALUES
To support the constant search for excellence by offering initiatives that encourage artistic ingenuity.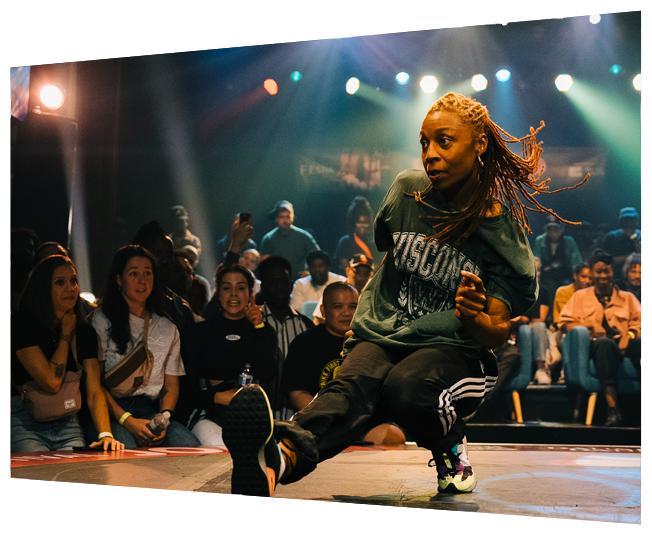 To support creative and untested ideas and new and innovative artistic expressions rooted in street dance culture.
CULTURE
To promote, celebrate and honour street dance culture in the broadest sense, by showcasing dance and related arts such as music, visual arts, installations, etc.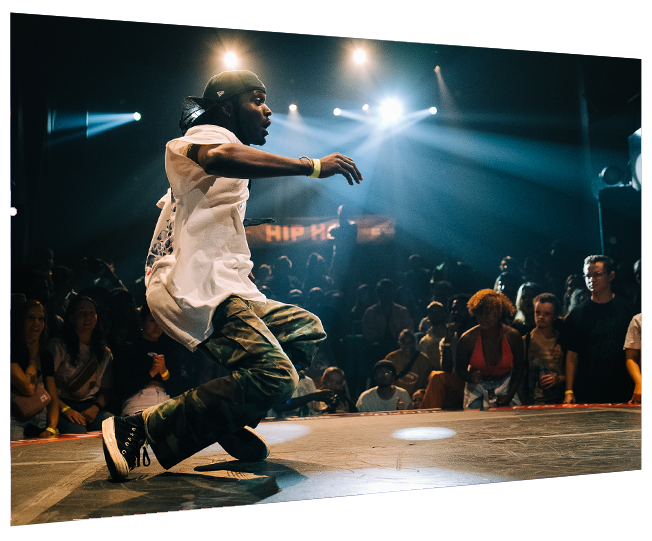 To encourage the free expression of the diversity that is the essence of street dance, by providing spaces for expression and visibility to artists of all backgrounds and from all walks of life.
2014
JOAT,
THE GENESIS
Handy Yacinthe danced and participated in battles here and internationally for many years. In his travels, he ran up against disciplinary codes that compartmentalized him as an expert in popping. He dreamed of a street dance event that would bring people together, promote innovation, and allow artists to dare to express their full multidisciplinarity. Because that's how Handy Yacinthe taught himself to dance—by experimenting with and sampling a wide range of disciplines, thereby earning the nickname Jack Of All Trades—JOAT!

In January and November 2014, Handy Yacinthe organized the first two JOAT International Dance Battles, held at Montréal's Fairmount Theatre.
2016
THE BIRTH
OF THE JOAT Festival
Building on the success of these early battles and the international recognition they quickly gained, JOAT became an international street dance festival in 2016. The multi-day event brought together members of the community around battles, music creation parties, dance workshops, and the JOAT Art exhibition, curated by visual artist PAX.

A unique multidisciplinary event was born!
2017-2019
JOAT Festival
OUTREACH
The Montréal editions were so successful that JOAT Battles were also held in Singapore (2017), India (2018), Taiwan (2017 and 2018), the United States (2018 and 2019), the United Kingdom (2019) and Japan (2020). The winners of these battles were invited to the JOAT International Street Dance Festival in Montréal, by then recognized as a genuine international springboard for Montréal street dance and a unique showcase for artistic expression.

The JOAT International Street Dance Festival reinforced its distinctive brand by assembling a team of renowned associates and partners: Elie-Anne Ross, artistic codirector (since 2019 and winner of the JOAT 2016); Shash'U, DJ (since 2014); Frédérique "PAX" Dumas, creator and curator of JOAT Art (since 2016); Urban-Element Zone, incubator of the next generation of street dance artists (since 2014); Étienne Lou, MC (since 2014); Erich Preach, MC (in 2019); Artbeat Montreal (since 2016); and Loop Sessions (since 2016).
2020
VirtuAl JOAT
prElude OF THE 2022 festival
In November 2020, while theatres were closed because of the COVID-19 pandemic, a JOAT Battle was livestreamed from the Yoop space at Place des Arts, in association with Danse Danse. The event featured eight dancers from Quebec and Canada, a local DJ, an international jury attending virtually, and a very effervescent master of ceremonies. Three large screens placed in front of the artists showed images of members of the online audience (alternating on the screens), allowing them to interact in real time. An event that once again reinforced JOAT's unique brand.
2022
JOAT Festival
IN MONTRÉAL'S Quartier des spectacles
In 2022, the JOAT International Street Dance Festival joined forces with Danse Danse to produce its first edition in the Quartier des spectacles. The festival took over downtown Montréal, with programming for the general public presented on the Place des Arts Esplanade, at Édifice 2-22, and at Club Soda. The 2022 festival attracted more than 15,000 spectators and participants from Greater Montréal, Western Canada, the United States, Europe and Asia.

Recognized as an exceptional showcase that brings the underground scene and institutions closer together, the JOAT International Street Dance Festival won the 2022 Jury Prize awarded by the Conseil des arts de Montréal. The festival is now a must-attend event for the street dance community, and an important contributor to Montréal's artistic vitality.

"The 2022 Jury Prize goes to an organization that is inseparable from the person who runs it with inexhaustible energy, passion and generosity for his community. The JOAT Festival brings urban dance and related arts to new audiences while respecting their codes and identity." — Conseil des Arts de Montréal (translation)